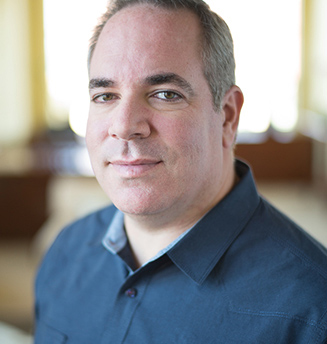 Greg Grusby
Director, Public Relations & Communications
ILM: San Francisco
Greg joined Industrial Light & Magic in 2006, relocating to San Francisco from his native New York where he operated Thought Agency, Ltd., a boutique communications agency specializing in design, visual effects, and post-production. Prior to founding Thought Agency, Greg worked for a number of leading East Coast companies including the New York-based design studio Meccanica, where he served as Director of Communications for three years and managed the studio's marketing, publicity, and public relations programs. Before the founding of Meccanica in 2001, Greg served as the Director of Communications at New York's leading postproduction and visual effects studio, Manhattan Transfer/R!ot Manhattan.
Prior to moving into communications, Greg was a Senior Designer and a Visual Effects Artist at Manhattan Transfer/R!ot Manhattan.
With 25-years of industry experience Greg brings a unique viewpoint to the public relations programs for ILM, ILMxLAB, and Skywalker Sound. Greg is responsible for all internal and external communications and branding of the company.
Greg holds a Bachelor of Science in Communications from the University of Miami, Florida and is a member of The International Animated Film Society (ASIFA-Hollywood.)