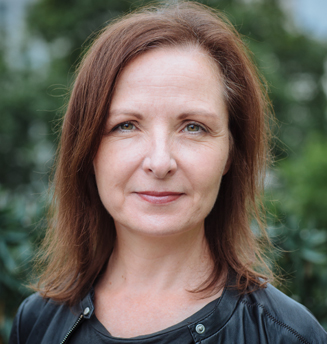 Ann Podlozny
PRODUCTION SUPERVISION
ILM: London
Ann joined ILM's London office as a Senior VFX Producer in March 2016 and recently completed work on Ready Player One. Prior to joining ILM , Podlozny served as the Executive VFX Producer on projects such as Baby Driver, Annihilation,  Ant-Man, A Cure For Wellness, and Insurgent. Some credits from Podlozny's extensive list as an Executive VFX Producer include Insurgent, A Cure for Wellness, Annihilation and Baby Driver. She was the VFX Producer on projects including The Matrix Revolutions, Constantine, Chronicles of Narnia: The Lion, The Witch and the Wardrobe, Fantastic 4, The Bourne Legacy, Fast and the Furious 6, and Interstellar.
Originally from the USA, Ann started her career in VFX after attending Stanford University and completing a bachelor's degree in Symbolic Systems, doing research in Artificial Intelligence, working as a stage actor, and completing a Masters in Education from The Harvard Graduate School of Education. This is to name but a few of the various skills that Podlozny picked up prior to her Visual Effects career.
Known for her knack with running large scale productions and mentoring junior producers, Podlozny strives for achieving well-executed shows that maintain a good work-life balance for artists and production teams. She is passionate about creating seamless integration of visual effects with live-action photography.
Podlozny is a member of the Visual Effects Society (VES) and was a UK Board Member and Treasurer in 2011. She was nominated for Outstanding Visual Effects in a Visual Effects-Driven Photoreal/Live Action Feature Motion Picture for Interstellar in 2015.