ILM StageCraft
---
ILM San Francisco
An End to End Virtual Production Solution
Industrial Light & Magic has a long history of enabling filmmakers to achieve their creative vision. Simply put, our passion is for film and the craft of filmmaking and to those ends, creative problem solving. Directors often inspire us to develop new tools and technology that in turn allow them to explore, communicate, and execute ideas in a collaborative and flexible manner. Leveraging our decades-long experience in production and effects, we are bringing the best of this technology together to create a single integrated virtual production platform we call, StageCraft – An end-to-end virtual production solution.
StageCraft represents a new paradigm of filmmaking that combines traditional filmmaking tools with cutting-edge technology to allow filmmakers to achieve their vision with speed and flexibility previously unimaginable.
StageCraft offers filmmakers the ability to:
Design:

Design shots in an immersive VR environment. Identify which set pieces are best built practically, and quickly assemble storyboards to explore creative options. The StageCraft design tools support easy import of scanned locations, fully digital set pieces, and assets to include in the design.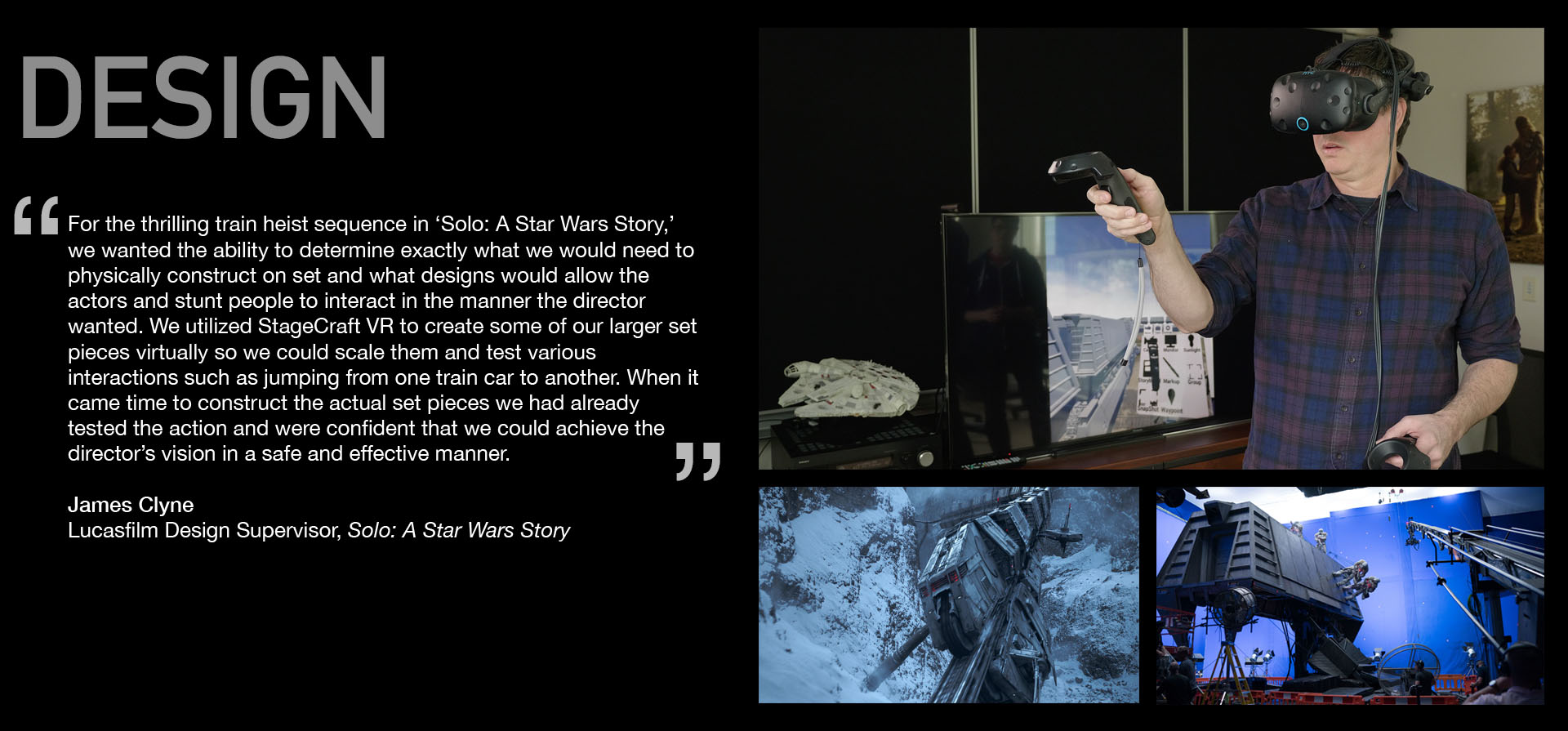 Scout:

Tools for location scouting – be it on location, in the office, or on a soundstage. StageCraft Scout allow creatives to see digital characters and set extensions all in the context of the shot in question utilizing VR, AR or simply on screen.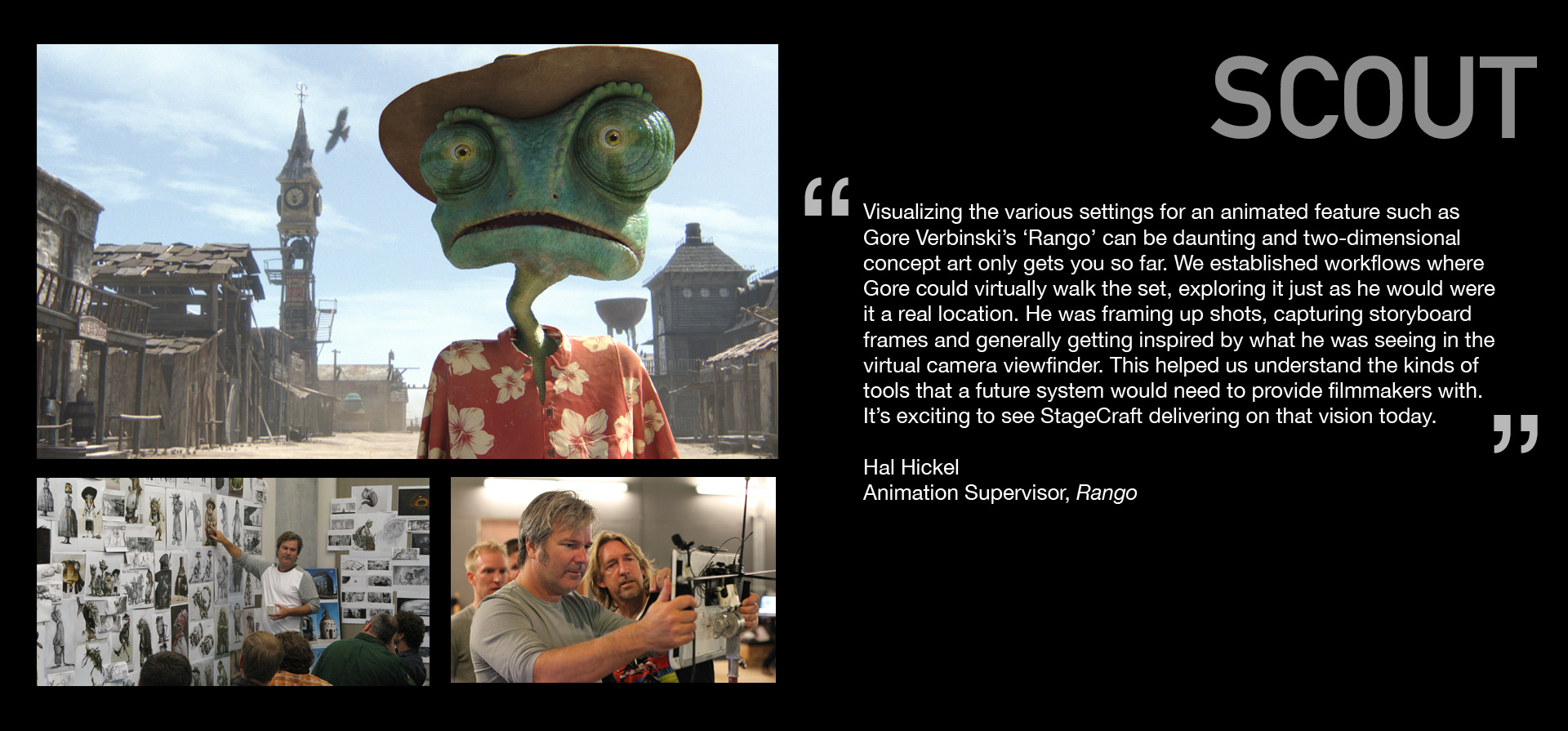 Previsualize:

Seamless virtual production-driven previsualization methods allow creatives to fluidly move from capturing performances to designing shots all within a filmmaker-friendly previz interface.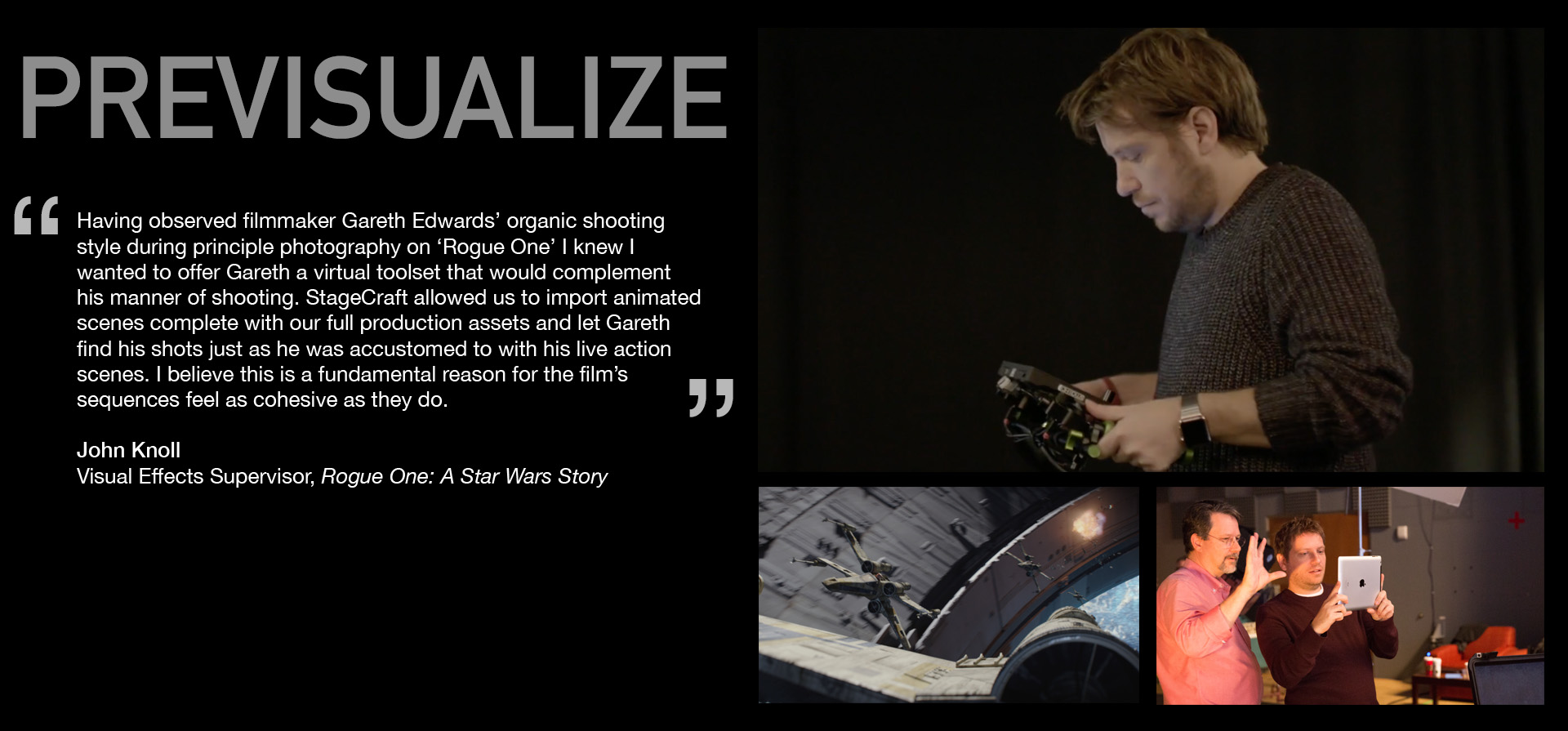 Perform:

Actors can get into character with real-time feedback from the StageCraft  Magic Mirror and key creatives can capture multiple performances with a live camera, even for unique, non-human characters. Performances are immediately available for review in 3D or streamed directly into a non-linear editing system for editorial context.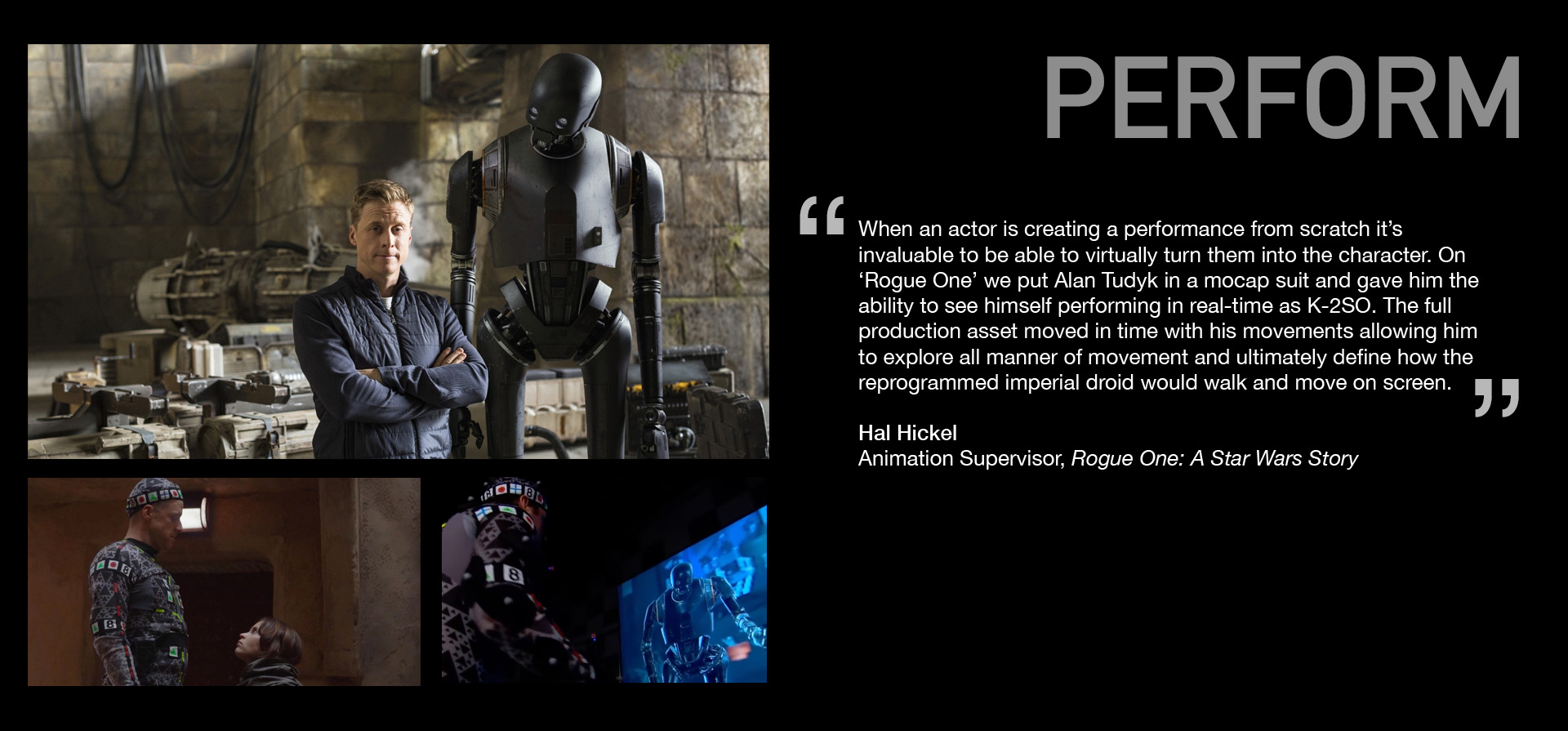 Shoot:

Block shots, capture final camera coverage with performance capture digital characters performances or keyframe animation with a robust virtual production system. StageCraft also provides powerful Integration with traditional camera equipment, real-world lenses, and lighting instruments.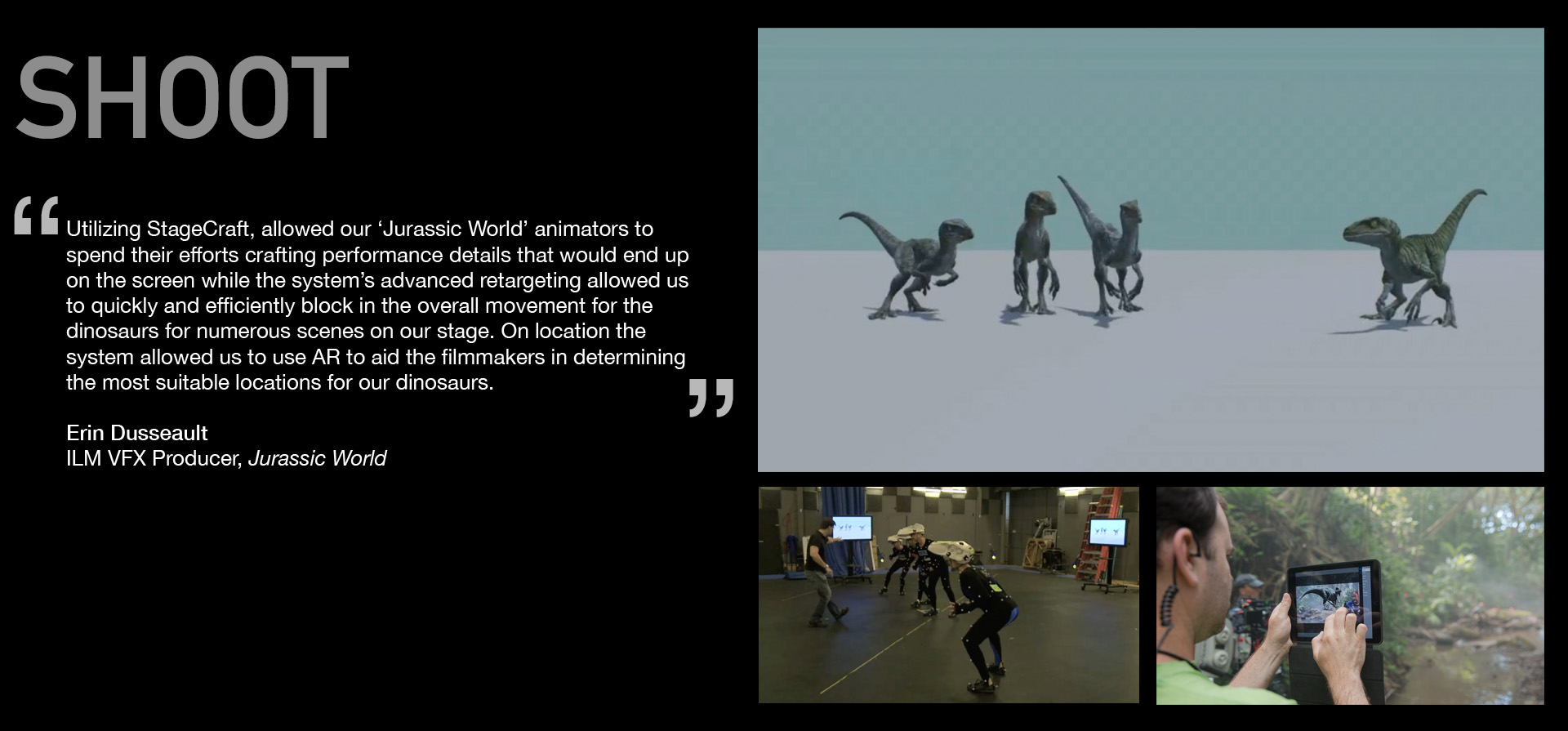 StageCraft's production tools provide filmmakers with the flexibility they are accustomed using  traditional filmmaking equipment with all of the advantages of a fully digital system. For example, our digital lens kit consists of hundreds of lenses that can be changed on the fly along with complete support for depth of field, lens vignetting, various camera platforms, film formats and aspect ratios. With StageCraft's real-time rendering solutions scenes can be modified live and played back instantaneously on LED screens or via projection to capture final effects in-camera.
"Having a suite of tools that allows Directors, DPs & Key Creatives to envisage their ideas live in front of them, with real-time assets, brought to life straight from our visual effects pipeline is undeniably powerful. StageCraft gives us tools that we can confidently stand by, from early concept work with Directors, DPs & Production designers, all the way through to standing on set, watching their vision come to life, in real-time, straight down the camera lens."

– Matt Rank, ILM Virtual Production Supervisor