MEET THE FACILITIES MANAGER HELPING GROW ILM'S SYDNEY STUDIO
Can you tell us your role and summarize your day-to-day responsibilities?
I am the Facilities Manager for Industrial Light & Magic's (ILM) Sydney studio. I oversee everything involving the facilities and operations for the studio. That includes maintaining supplies, stationery, and the kitchens, to onboarding new employees, which is a big job at the moment because we're still a relatively new studio, with a big growth projection. I have a Facilities Coordinator that recently started. Between the two of us, we look after all the basic day-to-day needs, making sure there are snacks in the kitchens and lamps on their desks, and anything that assists in ensuring they are comfortable at work.
When I first started, I had to fit out new office spaces and bring them online very quickly for people to start working. Since then, we've built out space, making it a nice place to work. With the pandemic situation in the last year, we've had to implement new policies and procedures to make sure that we're all safe, including sanitizing workspaces. Now we're managing logistics and configurations for a post-COVID world. I think there were about 25 to 30 people when the pandemic started. Now there are 250+ people. We've grown significantly. People are working with a new hybrid model, coming into the office two to four days a week. It's been an extremely busy time, and it has its challenges, but it's always very exciting and that's one of the reasons I applied for this job.
It sounds like you have to make many different types of decisions in your role, from the large scale to the small scale.
Yes, it's an amazing opportunity to be part of something right from the very start and build up all the necessary policies, facilities, desks, and everything that's required. One thing I love about the company is its team culture. Even though my role is extremely varied and all-consuming to a certain extent, I never feel that I'm on my own. Not only locally with the Sydney team, but globally across all of ILM, everyone's willing to help out and answer questions. I've worked in a global company before, but not for one where everyone's so collaborative and willing to give their time.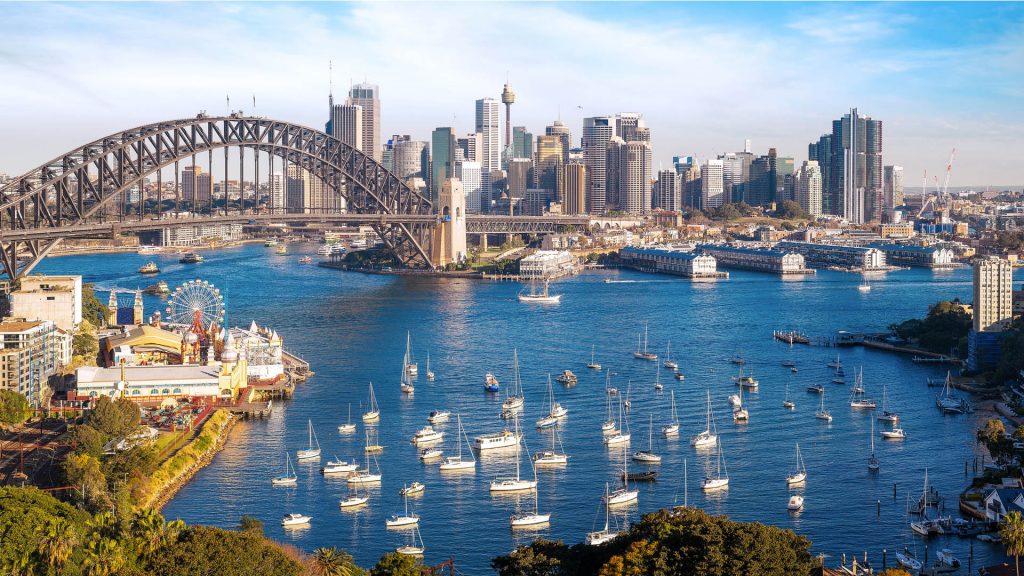 Could you tell us about your background and the path that led you to ILM?
After a couple of years at college to get a Business Administration certificate, I went straight into work. I applied for a copywriting job at The Body Shop, which is a perfume, soap, and toiletry company headquartered in my hometown on the south coast of England. I was offered a job with the founder Dame Anita Roddick as her team assistant and administrator. Over my ten years there, I moved into a personal assistant level with her and she taught me a lot. She was not only the head of a global company, but she did a lot of things for animal and human rights, and that helped shaped my own values about the types of places where I'd like to work.
When Dame Anita Roddick decided to step back and sell The Body Shop to L'Oreal, I thought that would be a great opportunity to pursue my dream of traveling. I came to Australia on a work travel visa and I managed to get a job here as an Executive Assistant for a private financial company. I then managed to get my Permanent Residency to stay in the country, and it's been 14 years now. I stayed in the financial sector for a few years, then I managed to get a role at a media company, one of the largest in Australia. I started off as the Executive Assistant to four senior executives. After I left to have my son, the company had grown and decided that they needed a facilities and office manager to help put policies and procedures in place. I then returned to the company in that role.
One day I was locked in work and the daily media news came up on the screen, as it did every day. There was a line that said Lucasfilm's ILM was opening an office in Sydney. I just had to read the article and at the bottom was a link to the job listings. I don't know why, but I just thought I'd have a look and at the top was a Facilities Manager role. It was one of those opportunities that I just couldn't pass up, it felt like one of those now or never opportunities. I applied and heard back the next day. After a series of interviews and a matter of days, I was being offered the role! I immediately accepted and the next thing I knew, I went straight into fitting out the first office space, getting the builders set up, and jumping straight in. My first two months were a baptism of fire!
And what was your familiarity with Lucasfilm before you were hired?
I definitely knew about Lucasfilm and what the company does. One of my best memories is Saturday evenings with my dad watching Indiana Jones. The two of us absolutely loved watching that together. More recently, my son has started getting into Star Wars and The Mandalorian and he got the costume for his birthday this year. I'm sort of following what I did with my dad and now I'm doing it again with my son, which is lovely.
Can you explain a little more about ILM's Sydney facility and when it was established?
We're at Fox Studios Australia, occupying space that used to be production offices for the shooting stages below. Our ILM studio was officially launched in July, 2019. I started at the beginning of October. There were about six people in a core group, including a visual effects supervisor and some compositors. They were at one end of the facility working on a few shots for Star Wars: The Rise of Skywalker while we fitted out everything else. One nice detail about our space is that we have an outdoor area that we call the skybridge with seating and plants. Also we have a cool feature, a glass case that explores some of the history of Fox Studios, including a photo of George Lucas when he was here filming of Star Wars: Attack of the Clones and Revenge of the Sith!
And how did the studio adapt to the global pandemic in 2020?
At the beginning of 2020, we were very excited because the projected growth was amazing. We started getting everything planned out and then bang it kind of hit us. Initially, it was all about making sure that everybody was set up at home because we just didn't have any idea how long it was going to continue. A few months later when things started looking better, the conversations started about how it would look to bring people back. It kind of shifted again from getting people set up at home and making sure that they were coping OK to starting back on the facility.
The fact that the studio grew considerably over that time must have been a real challenge.
Yes, we went from a brand-new environment, leaving it at 25 to 30 people, and bringing it back with 100 or so people, and it keeps growing. It's been incredible how everybody's come together. Massive kudos to the talent and recruitment team for how they've continued to build the studio. It's been an incredible journey. I feel like I've had to relearn what facilities work is to a certain extent, because there are aspects that are different now to what it used to be.
Following that, is there anything about your job that people might find surprising?
I think people underestimate the amount of customer service that is required in a facilities role. If people don't really know what we do, we're doing a really good job because it covers a lot of the stuff that people shouldn't have to think about, like where something is or why it's missing. If we're doing our job, it just happens. Those customer service relationships become very important. Across the board you need to work well with everyone because it's a role that impacts the entire company.
And how do you translate that to the personal level?
Communication goes hand in hand with customer service. Being able to easily build good relationships with people is very important. I think also you need to be organized and have good awareness. It's quite a caring role. I think you need to be someone who has pride in what you do, wants to create a great space, and cares for the people in it.
As we've been celebrating Earth Month, how do you work to main sustainable practices at ILM Sydney?
From the very start, I was thinking about making the workspace as sustainable and green as possible. So, we have no trash bins in offices or at desks. We've implemented stations with general, recycling, organic, and paper bins. It's very hard to introduce a different way for people to do things, so I thought we'd try to properly manage our waste right from the start. I'm always thinking about how can we do things that are good for the environment but that also get people thinking about that side of things. Now we have a Green Team and we're looking at our electricity supply and how that can be better. We've got some pots with strawberries, mint, and rosemary on our skybridge, which we are hoping to start growing with stored rainwater. And we talk with the Fox Studios team to find out how we can collaborate. One thing I learned back when I worked with Dame Anita Roddick was that if each person does just one small thing, that can make a massive difference.
And now you're a part of the creation of these movies!
I know! It still feels so weird, like it doesn't feel real. I pinch myself. My dad is so proud. He's such an important part of my life, and I love the fact that he's proud of where I am.
Do you have any advice for those who aspire to join a company like ILM and Lucasfilm?
Being part of a studio from the starting point and seeing who they're employing across the board, I think passion comes first. It doesn't matter whether it's facilities, or being a production assistant or being a production lead or an artist or whatever you are, be passionate about what you do. That really shines through when you're applying for something. That would be my one and only advice to anyone who's wanting to breakthrough. This is definitely a company that respects your passion.