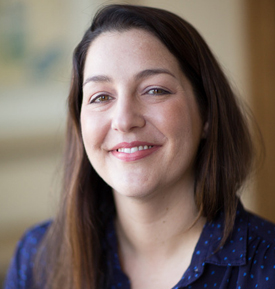 Jessica Teach
Executive in Charge, ILM San Francisco
ILM: San Francisco
Jessica Teach is Executive in Charge of the company's San Francisco studio reporting to SVP, Executive Creative Director, and Head of ILM Rob Bredow. Teach is a member of ILM's Executive Team and spearheads the operational and talent strategies and day-to-day management for the San Francisco studio. Working with Bredow and the other members of the Executive Team, she also helps guide the company as a whole.
Jessica Teach joined Industrial Light & Magic in 2001 as a Production Assistant and has held a number of positions with increasing responsibility throughout the years.
As a member of ILM's executive team, Jessica works closely with her team of talent managers, producers and VFX and Animation supervisors to staff artist resources across the company's studios and global portfolio of shows.
In addition to her management responsibilities, she founded ILM's Diversity & Inclusion Steering Committee (ILM DiSCo) to provide leadership for the company's diversity and inclusion efforts, and shaping strategy that spans internal and external communication, training, recruitment practices and casting and crewing decisions to forward the company's commitment in this very important area.
Jessica has also served as a member of the Technical Advisory Group at ILM. In this capacity she was as an advisor on ILM facility-wide technical issues in the R&D, I.T., and I.S. departments and liaised with representatives from other Lucas divisions to facilitate a cohesive and strategic approach to technical development and implementation across Lucasfilm.
Prior to joining ILM, Jessica was a producer at Mondo Media, in San Francisco, California, leading a team responsible for creating flash animated internet content.  Jessica is originally from New London, New Hampshire.  She is a graduate of Colby-Sawyer College with a bachelor's degree in writing. She and her husband currently reside in San Francisco, California.