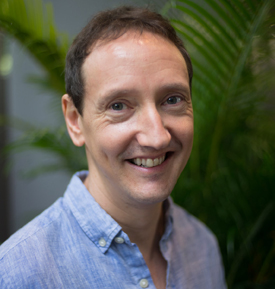 Ben Lock
Production Supervision
ILM: Singapore
Ben Lock joined Lucasfilm Singapore in 2012 as an animation Producer on George Lucas' feature animation Strange Magic and continues producing visual effects for feature films and commercials including: Star Wars: The Force Awakens, Teenage Mutant Ninja Turtles and the first Star Wars Anthology film.
Starting his career in the mid 1990's, Lock was a specialist in 2D and 3D software for Autodesk. He moved into studio production to supervise work at pioneering UK company Pepper's Ghost, then Aardman Animation and Framestore where he worked on "Death at a Funeral". He returned to Aardman Features as Pre-Viz supervisor and Visual Effects Producer, on The Pirates! whilst overseeing a start-up VFX facility of 100+ artists.
Lock was honored with a British Academy Award (BAFTA) in 2006 and was nominated for a further award in 2009.